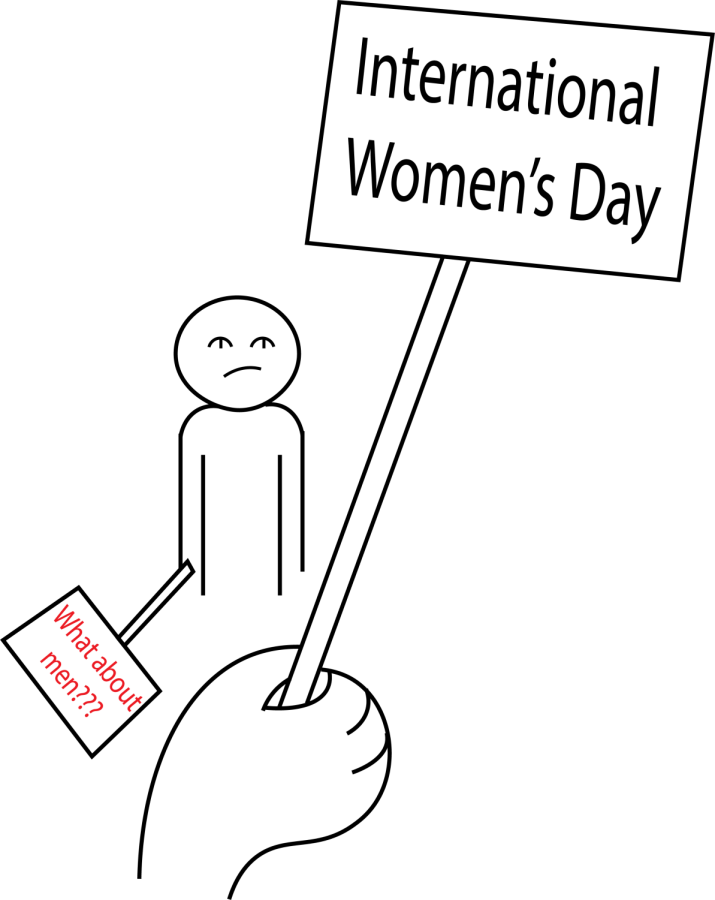 International Men's Day?
March 4, 2021
International Women's Day is rapidly approaching. Celebrated on March 8th around the world, it is an occasion to empower women and highlight the oppression they have faced for centuries. According to the International Women's Day website, it is a day celebrating the social, economic, cultural and political achievements of women. As the iconic day rolls around, however, discussion inevitably goes to men, as it usually does when women's issues are discussed. "Why don't we have an International Men's Day?" "Why should women have all the attention while men are left to suffer?" 
As it happens, International Men's Day exists – it falls on November 19th of every year. One question remains – should it?
Wait, maybe I'm glossing over male issues a little too much here.
I'm sure it was well-intentioned when it began almost thirty years ago. The day, at its core, aims to raise awareness for the health of men and boys, echoed by last year's theme: 'Better Health for Men and Boys'. Men die earlier than women and are more prone to chronic illness. In most of the developed world, suicide rates for men are over three times higher than for women. These examples of men's health issues, along with social issues of enforced toxic masculinity, are unquestionably valid. 
The problem, however, begins with the underlying reasons for the day. According to the International Men's Day organization, it's "an occasion for men to celebrate their achievements and contributions, […] while highlighting the discrimination against them." The issue with this message is that it implies that there is active discrimination of men in our world today. It victimizes men. Rather than  focusing on urgent, individual issues such as poor mental health or the gendered expectations that men should be strong, self-reliant, and silent in the face of pain, it insinuates that men as a group have faced oppression. 
In reality, International Men's Day is not the 19th of November. It is every day. Men hold more than 80% of the world's political power. If you are a woman in today's world, you will likely earn less than your male counterpart. Only six  countries give women equal work rights as men. A good example of this obvious gender disparity is that of the Fortune 50 CEOs. 2020 saw a record-high number of women within the top 50 CEOs. Three, that is.There are three women on the list, but seven Brians.
In today's society, women are, more often than not,  blamed for acts of sexual abuse. When 90% of all rapists are men, why should women go to self-defense classes while men don't have to attend "how not to assault women" classes? Boys will be boys, right?
 This is why it is necessary that we have an International Women's Day. Steps to gender parity don't just benefit women – they benefit everyone. Dismantling the patriarchy piece by piece has equally significant benefits for men. Erasing gender norms means that men will no longer be expected to be the sole providers for their families. They will be able to take care of their own children without being worried about emasculation. In this case, when what we are really aiming to do is not to end 'discrimination' against men, but to minimize the patriarchy's effect on men, International Men's Day is counter-productive.
Surely the men's rights movement can see how the aggression and imposed 'equality' of their movement is blind to the current state of the world. What if, instead of using a single day to further promote the interests and achievements of men, we focused our energy into things like increased mental health awareness for men, better cancer research, longer paternity leave, or reducing the stigma faced by men who have suffered sexual abuse? 
International Men's Day is, quite simply, unnecessary. It falls all day, every day, 365 days a year. There is no need for it. When March 8th arrives, please don't question why there isn't an International Men's Day or why we don't put as much importance on it. Instead, focus on the root of the problem, if you genuinely want to help men.