Joy to the World– Christmas Has Come!
Snow has started to fall, the decorations are being put up, Christmas songs are on blast: it is finally that time of the year again. The time for family, gift giving, and gratefulness. Every family has their own traditions, as well as some being celebrated across the whole country. Here are 8 interesting Christmas traditions from around the world.
1. Giant Lantern Festival, Philippines:
In San Fernando, every Saturday before Christmas eve, eleven villages take part in a competition to build the most elaborate and impressive lanterns. These were originally made from 'papel de hapon' and were lit by a candle. Nowadays they are made of many different materials, and are six metres in diameter, which is twelve times larger than what it used to be. Ligligan Parul, the lantern competition, started in San Fernando in 1904.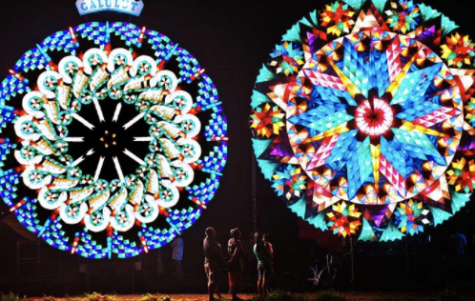 2. Gävle Goat, Sweden:
In 1966, the idea was proposed to design a giant version of the traditional Swedish Christmas straw goat to attract the attention of customers to the shops and restaurants. Ever since then, it has become a tradition to place a thirteen metre high straw goat at the Castle Square. The goat weighs about 3.6 tonnes, is made from 1600 metres of rope, 1200 metres of Swedish pine for the construction of the skeleton, and about 1000 hours of work put into creating it. This has led to another tradition: trying to burn it down. Since 1966 the Gävle Goat has been successfully burnt down 29 times.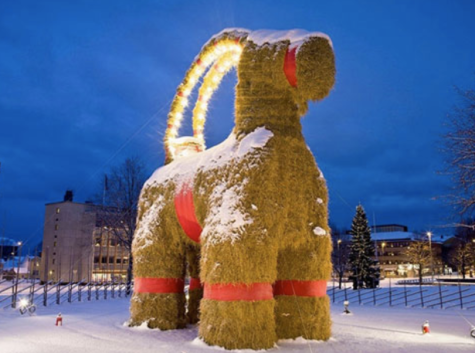 3. Krampus, Austria:
In Alpine folklore, the Krampus is a frightening, horned creature: St. Nicholas' evil accomplice. While St. Nicholas rewards good children, the Krampus is said to capture and take away naughty children in his sack. In the first week of December, young men in Austria dress up as the Krampus to scare children on the streets. The Krampus would have bells tied to the costume so that the clanking could be heard from darkness, and sometimes wearing chains to represent their place in the Underworld. Seems rather traumatising but at least the scared children are more likely to behave well.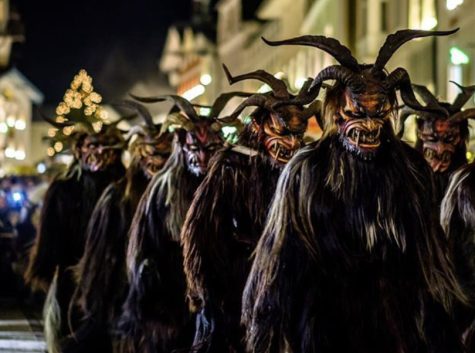 4. The Yule Lads, Iceland:
The Yule Lads visit children across all of Iceland in the 13 days leading up to Christmas. Each night of Yuletide, children place their shoes by the window, where every day a different Yule Lad leaves either tiny gifts for the good children, or rotten potatoes for the naughty. The Yule Lads are said to be mischievous, their names hinting at the sort of trouble they make. There is Stekkjastaur: Sheep-Cote Clod, Giljagaur: Gully Gawk, Stúfur: Stubby, Þvörusleikir: Spoon-Licker, Pottaskefill: Pot-Scraper, Askasleikir: Bowl-Licker, Hurðaskellir: Door-Slammer, Skyrgámur: Skyr-Gobbler, Bjúgnakrækir: Sausage-Swiper, Gluggagægir: Window-Peeper, Gáttaþefur: Doorway-Sniffer, Ketkrókur: Meat-Hook and Kertasníkir: Candle-Stealer.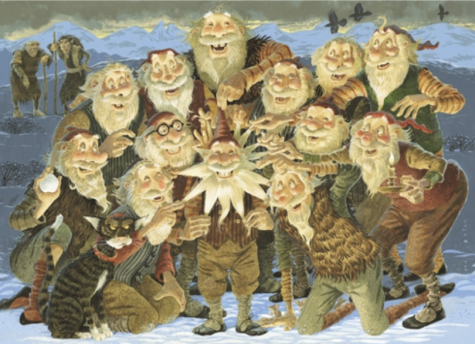 5. Witches and Broomsticks, Norway:
A tradition that began centuries ago in Norway consists of people hiding their broomsticks on Christmas Eve. Seems quite unusual, however, there is a reason behind it. Many years ago, it was believed that witches and evil spirits would come out on Christmas Eve, looking for broomsticks to ride on. Even though many don't believe in witches anymore, this tradition stuck around and people still hide their brooms to prevent them from being stolen.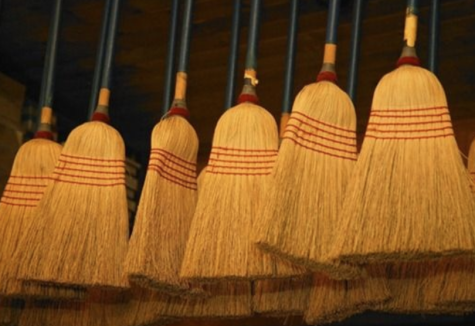 6. Day of the Little Candles, Colombia:
Día de los Velitas, known as Little Candles' Day in English, is what marks the start of the Christmas season in Colombia. It is celebrated on the 7th of December when candles and paper lanterns are placed everywhere such as on windowsills, balconies, porches, streets, and squares. This is done to honour Virgin Mary and the Immaculate Conception. Nowadays, the tradition has grown and instead of just candles, cities are lit up with magnificent displays. Events are also held such as fireworks and competitions.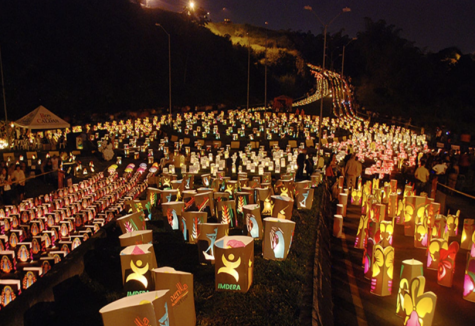 7. Cavalcade of Lights, Toronto:
In Toronto, the holiday season is started off by the annual Cavalcade of Lights. The first Cavalcade of Lights took place in 1967, its purpose to display the newly constructed City Hall and Nathan Phillips Square. The Christmas tree and the Square are decorated with more than 300,000 energy-efficient LED lights. These illuminate the Square from dusk to 11pm, every night until New Years.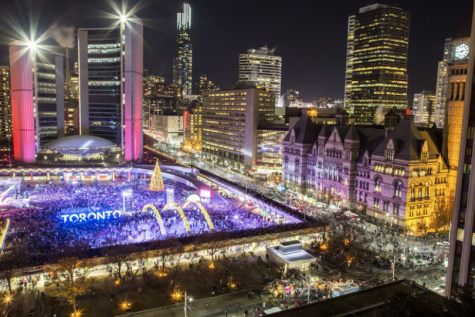 8. Skating to Church, Venezuela:
In Venezuela, people from around the city head to church in the early morning of Christmas Eve wearing roller skates. Since the tradition is so popular there, roads are closed down ensuring that people can skate to church without the danger of cars. After skating back home, they have the traditional Christmas dinner of tamales which is a steamed wrap made from cornmeal dough and meat. It is unknown why this tradition came about, however, it is most popularly believed that this is Venezuela's alternative to sledging.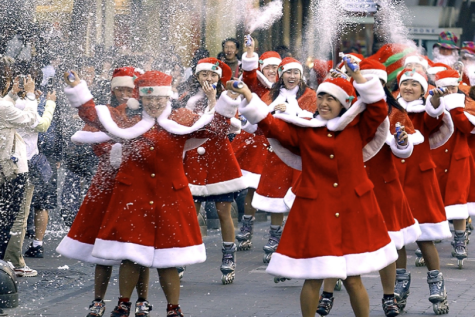 Christmas isn't celebrated all over the world, but each country has their own way to celebrate and come together. All these different traditions are unique in their own ways and show our cultural differences!