Once Upon a Story
Everyone loves a good fairytale. And what's even better is a fairy tale combined with daggers and enemies to lovers. Here's a list of our YA fairy tale retelling recommendations to stock up on as winter break approaches.
Our rating system:
1/5: It's so bad I wanna give you a 0, but I can't so I'll give you a 1
2/5: Wouldn't wish that on my worst enemy
3/5: I plead the fifth
4/5: Snap girl, I think you dropped something… my JAW
5/5: I would sell all of my organs for this book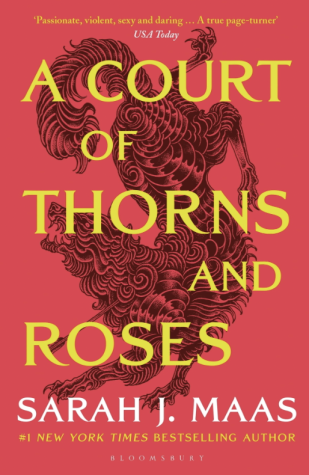 A Court of Thorns and Roses by Sarah J. Maas
🍄🍄🍄🍄/5
As do most YA fantasy novel protagonists, Feyre begins by hunting for food to support her helpless family. However, after she casually kills a wolf, a creature returns to demand retribution. She is then thrust into a world of magic, intrigue, and perhaps most interestingly, danger.
A lot of hype was built up around ACOTAR and personally, I believe it totally deserves it. The story opens and you are immediately engrossed in a world that you nor the main character, Feyre, really knows anything about. It's mystical, mysterious and deadly. Feyre quickly learns she must navigate precariously and suspense only builds as she is forced to learn where the line stands. Sarah J. Maas does a uniquely good job of building a world in which you can immerse yourself and this book is a perfect example. However, while I didn't find that it took away from her character per se, I didn't feel like I was completely able to connect with Feyre as she is somewhat cold and standoffish (justifiably so). The first half of the book was also somewhat slow. While the setting is very intriguing, the actual action is only serving to build to the end of the book. That being said, keep reading – it's worth it. Overall, I definitely recommend ACOTAR, and if you like it, you should definitely check out some of Maas's other novels.
Heartless by Marissa Meyer
🍄🍄🍄🍄🍄/5
Before the Queen of hearts became the Queen of hearts, she was just a girl who dreamed of opening a bakery with her best friend. But it seems like fate and her mother have other plans…
A popular saying goes that monsters aren't born, they're made. And this book is a marvellous example of that. In Disney films it's very black and white- the good guys are good, and the bad guys are bad- no questions asked. The Queen of hearts is a tyrant who chops off people's heads for petty crimes, so she is perceived as a villain. But this book digs deeper into her story and what lies beyond the cruelty in her heart. After reading this book I definitely viewed her character in a different way: instead of seeing a tyrant, I saw a broken girl. Being able to see her backstory through her eyes and feel her pain, I could see why she is a heartless Queen. Instead of feeling anger toward her, I felt pity. This book teaches the important lesson that we only see the tip of the iceberg when it comes to others and that there is more going on under the surface. There are thrilling moments in this book, moments that make you squeal with joy and your heart skip a beat. It also keeps you on the edge of your seat at times. What's more, you get the back story of the Mad Hatter and see familiar faces such as the white rabbit and the Cheshire cat. If you're looking for a good standalone book I would definitely recommend this one- especially if you are a fan of Alice in Wonderland and enjoy books with fairytale vibes.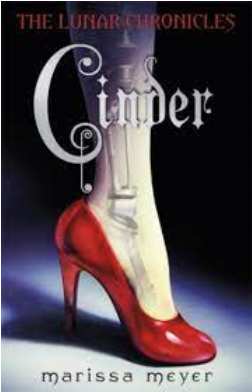 Cinder by Marissa Meyer
🍄🍄🍄🍄🍄/5
Cinder is a cyborg and a gifted mechanic. Androids and cyborgs are very common in New Beijing yet they are looked down upon by the rest of the public. When Cinder is involuntarily signed up by her stepmother to be part of a lab project to help find a cure for the deadly plague, she becomes a key figure in having to discover the secrets of the government to save the world's future.
This was a great first instalment, with a fast-paced storyline and intriguing characters. I found it refreshing to see a fairytale retelling in a different genre from its original. Cinder takes place in a dystopian world and, as the title suggests, it is a retelling of Cinderella. I liked Cinder as a character; she was relatable, strong, and easy to sympathise with. It was also nice to see that the love interest wasn't just there as a side plot for romance, but instead, Prince Kai was developed as well with a few of the chapters focusing on him. Moreover, there were some other very fun and interesting characters, such as Iko- the android sidekick. I loved the rest of the series just as much as Cinder, the following books focusing on new characters with different fairytale retelling storylines which all overlapped as the main plot. The dynamic between the whole group in the last book was funny and sweet, a perfect execution of the found family trope (one of my absolutely favourite tropes ever). Overall, I definitely recommend the whole series if you are looking for something different.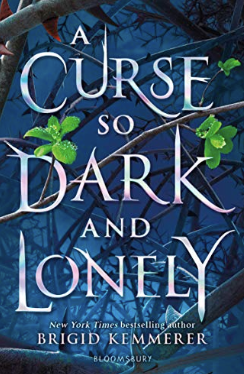 A Curse So Dark and Lonely by Brigid Kemmerer
🍄🍄🍄🍄🍄/5
Harper hasn't had it easy with her father long dead, her mother dying and her brother always underestimating her. Things only get weirder when she is pulled into a magical world. Prince Rhen was cursed to repeat the autumn of his eighteenth year and was turned into a vicious beast. The only way to save him and his kingdom is for a girl to fall in love with him. Will Harper be able to break the curse?
I really enjoyed this novel; it was fast-paced, easy to read, and hooking. I thought that elements of Beauty and the Beast were incorporated well, and the story was executed in unique way, even though the original is so well known. It was also important to see representation of physical disabilities with Harper having cerebral palsy, and seeing how she didn't allow others to underestimate her. There was a nice balance between introducing a new world intricately but still maintaining some mystery. The structure of the worldbuilding probably benefited from the fact that Harper is also from our modern world- so discovering the magical setting from her perspective was similar to how we do. The novel followed a first person account from two changing perspectives, allowing us to see both Harper and Rhen's characters in depth and down to their core values, fears, and goals. I do, however, think that this book was the peak of the series, the other two losing some of the satisfying plotlines and dynamics. I do still recommend the whole trilogy, though. And not that it matters, but the covers and spines of the books are gorgeous.