A Successful Sale
If you didn't see the massive pile of books sprawled across six tables in the North Campus foyer, six weeks ago, Reading for Pleasure hosted a second hand book sale fundraiser. Essentially, Reading for Pleasure, a reading dedicated service project, collected book donations from ISL families and in turn sold all books at only 3 CHF. There was even a special blind date with a book feature as a tribute to Valentine's Day. The event spanned over 4 days, from Monday to Thursday at recess, lunch, and afterschool. A variety of books were donated from children's books to cook books to YA fantasy. Over 500 books were sold in total and thus, it's safe to say the sale was a success.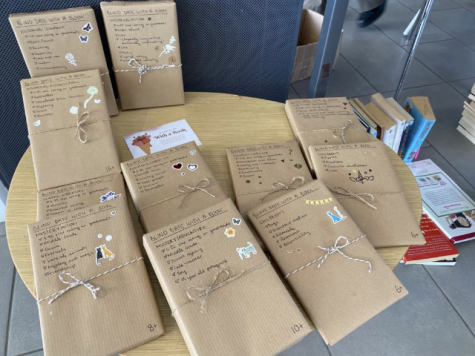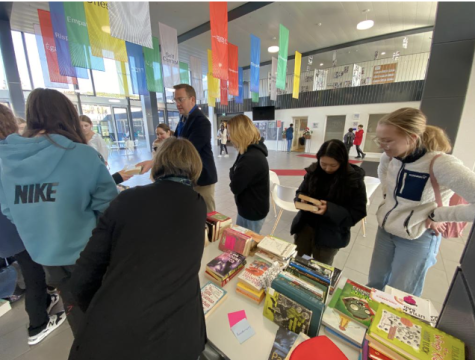 Reading for Pleasure is a rather new service, only founded last year, so there is a good chance that you haven't heard of the group. So what exactly does Reading for Pleasure do? The service group has two main aims: to promote reading for pleasure among ISL's community and to raise money for issues like education in certain countries. The first of the two goals is achieved through a series of different events and ideas. The Middle School Book Club is in progress year-round, permitting middle school students to explore books from different genres, share their thoughts about what they've read with others, and participate in fun activities like Jeopardy and treasure hunts that are centred around the monthly genre. Another project that was carried out last year was the book display in the library, which includes some recommendations and infographics with information from a survey about ISL's reading habits. Some other events include a Readathon and the book sale. The Readathon is an event that encourages reading, while the book sale allows students and parents to buy books for a rather cheap price, and is also an opportunity for people to free their bookshelves of the books they no longer need. Equally importantly, donating these funds also helps those less fortunate.
The results were astounding. In total, 1200 CHF is now being donated to Save the Children, a charity dedicated to improving children's lives around the world. Some of their main focuses include healthcare, food, shelter, and education. As a service devoted to not only promoting reading on a local scale, but also supporting education internationally, with 1200 CHF, Reading for Pleasure hopes to support these goals. Additionally, with around 500 books sold, there was hopefully a further impact on the ISL community and, with a newfound recognition, Reading for Pleasure should be able to continue these endeavours. 
In the future, Reading for Pleasure intends to keep organising the second-hand book sale after its previous success, making it an annual event. Hopefully, as these events recur, they can continue to succeed and eventually grow in size. For example, some ideas that could be implemented into this event include a raffle or prizes for randomly chosen people who have donated books. However, there are many other plans currently in place. In just two weeks, the Middle School Readathon will be launched. The year seven to nine homerooms will be able to compete by logging the most minutes within a month, including during the April break. The readathon will also be made into an annual event, perhaps extended to High School in the future. While a lot of Reading for Pleasure's events are available mainly to middle schoolers and sometimes high schoolers, their reach within ISL is something currently in the works of being enhanced. For example, the service group may be involved with the upcoming Primary Book Week and is brainstorming of other ways they can be involved with the Primary. Furthermore, as mentioned previously, Reading for Pleasure will hopefully extend their current events to be made available for High School.
Though Reading for Pleasure is a new service group, they have a lot of ideas planned so look out for upcoming events. Encourage yourself to pick up that book that you have been meaning to read for a while now but never quite had the time to– reading truly has many benefits.