Were the characters how you imagined them? Did they include your favourite dialogue? Did they remove your least favourite? Did they go off script… or in this case off page, and create a whole new storyline for the characters. These are all typical debates and conversations that take place when a book is adapted onto the big screen. In this issue, we discuss some of our favourite books that had the chance to come alive in our home TVs. And answer the most debated question yet…
Was the book better or was the movie better? 
Our rating system:
1/5: It's so bad I wanna give you a 0, but I can't so I'll give you a 1 
2/5: Wouldn't wish that on my worst enemy 
3/5: I plead the fifth
4/5: Snap girl, I think you dropped something… my JAW
5/5: I would sell all of my organs for this book
🌟book rating
🎬adaptation rating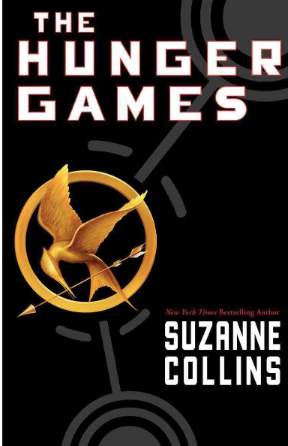 The Hunger Games by Suzanne Collins
🌟🌟🌟🌟🌟/5
🎬🎬🎬🎬/5
Far in the future, 24 tributes aged 12-18 are sent to the capital every year to fight to death as punishment for the district's rebelling. When her sister is reeped for the games Katniss Everdeen has no choice but to volunteer to save her life.
This book will always hold a special place in my heart. It was the book that truly swept me down the path of reading. When I was younger it was much more mature than what I was used to. I believe that's why I liked it so much, so much that I reread the whole series at least 3 times. The concept of 'fight to the death' intrigued me, and back then love triangles were my cup of tea. Now as I am older and reflecting back on the series, what I believe makes the series so phenomenal is how the dystopian world reflects our own world's political problems today. While the plot of all three books is fairly perdictable they still kept me at the edge of my seat. The world itself was amazing. One of my favourite parts had to be the first half where the tributes are in the capital and we learn about the wacky hairstyles and fashion that are trending in this location. The uniqueness of each district left me wanting to know more afterwards as well. The characters themselves each have their own characteristics and personalities that make you fall  in love with them. I loved Katniss because she was a strong and brave female protagonist, but she was also just a teenager who was thrown into this unfortunate predicament unexpectedly and that can be reflected in her inner dialogue. Now the movie itself  is as accurate as an adaptation can get, but of course I strongly believe that the book is always better than the movie so I had to bump it down a rating. While some humorous dialogue was unfortunately cut from the movie it was truly like reading the book with all the scenes brought to life before my eyes. The characters were almost picture perfect, a little old but that is how it tends to be when adapting books. Jennifer Lawrence was impeccable. She is definitely my favourite actress. However, the costuming was a bit unrealistic given that they looked like they stepped out of a runway show even after almost dying. Alas, that is how it tends to work with movies. Overall, if you're looking to get into reading or want an action packed dystopian, the Hunger Games is the way to go.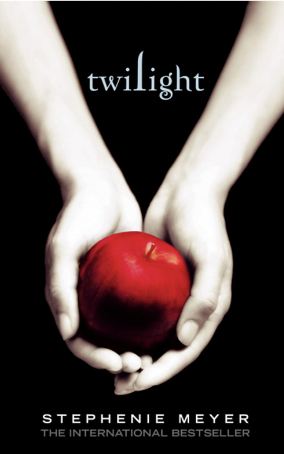 Twilight by Stephanie Meyer 
🌟🌟🌟🌟/5
🎬🎬🎬/5
When her Mom decides to travel with her new husband, Bella Swan is forced to move to Forks, Washington. She arrives and finds it is just as expected: eventful, constantly overcast, and perfectly average. However, when she meets the ever so mysterious Edward Cullen, she discovers this town may not be as average as it seems…
To put it simply, you either love or hate Twilight. It's a pretty classic romance with the typical supernatural trope and a stereotypical love triangle. My 12 year old self loved them and, if I'm being honest, they still have a special place in my heart. Admittedly, Bella may not be all that three dimensional and Edward may be a bit obsessive but nonetheless, how could I not fall in love with two star-crossed lovers, fighting against all odds to be together? However, there is no question that there are ups and downs and, to put it lightly, the downs are pretty low. I've always loved books and I'm one to argue that books are (almost) always better than the movie. After all, you don't really get to follow the story when you watch a movie, you just kind of witness it. Arguably more importantly, the cringey parts aren't THAT cringey. Twilight most definitely lives up to this concern. For example, when the Cullens are having their baseball game, seeing the two groups of grown adults staring at each other with their fake fangs and edgy yellow contacts was incredibly amusing (no spoilers of course). And of course, it's impossible when talking about the movies to forget Edward's iconic line, "Hold on, Spider monkey." I, to this day, wonder how Robert Pattinson said that with a straight face. However, this is not to discourage you from watching it. I highly recommend watching the movies for the sake of a good laugh and while they may be a little childish, the books for a classic love story.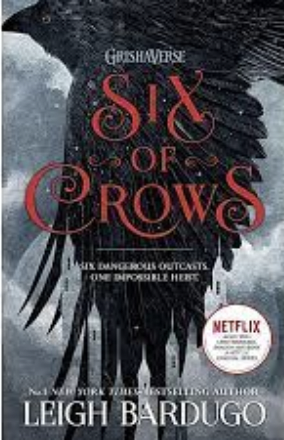 Six of Crows by Leigh Bardugo
🌟🌟🌟🌟🌟/5
🎬🎬🎬🎬/5
A convict whose religion surrounds a tree, a sharpshooter with a severe gambling problem, a runaway who can play the flute and blow up buildings, a circus performer who has a fondness for knives, a notorious thief who has severe trauma, and a woman who can kill you with a flick of a finger. Literally. Six dangerous outcasts. One impossible heist.
Six of Crows is the peak of YA fantasy writing with rich, rich worldbuilding, and more importantly, incredibly well written characters. As the title suggests, the book follows six characters, all who are so interesting that I can't decide on who's my favourite. When I heard the TV series was going to be released along with Leigh Bardugo's other book, Shadow and Bone, I was waiting on edge for months. I admit that I was quite nervous to see how it would work but in the end, I was not disappointed. The world was beautifully built and I loved the cast. It was a bit strange to see all of the characters aged up a bit, however, it actually ended up being an interesting twist and ensured the cast were old enough to have had experience and fully represent the complexity of the characters. The combination of the two series, Shadow and Bone and Six of Crows, did become difficult to follow at times, especially with the complex details of the heists planned by the one and only Kaz Brekker, however, it did create a very engaging plot. I do wish that some of the characters were better fleshed out, but in the end, for a book series converted into an eight episode TV series, it was one of the best film adaptations I have seen.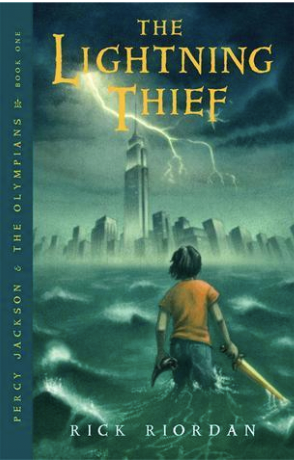 Percy Jackson and the Lighting Thief by Rick Riordan
🌟🌟🌟🌟🌟/5
🎬🎬/5
Percy Jackson is just a normal twelve-year-old boy, or so he thought… When Percy finds out that his father is a god and is accused of stealing Zeus' most prized possession, he is presented with a dangerous, magical quest. Will he be able to survive a seemingly impossible task?
Percy Jackson and Rick Riordan's other mythology-inspired books will forever hold a special place in my heart. In Year 7 English, we had a mythology unit during which we watched the Percy Jackson movie and I really enjoyed it, so I decided to pick up the books. My 'like' for the movies disappeared quite soon after that. Though the books are middle grade, written for a younger audience, I've re-read them many times since, and I still love them every time (though I may be a little biased). Riordan's writing is a good mix of adventure, humour, and suspense, while also bringing in elements of Greek mythology, which I think made the books all the more interesting. The series consists of five books, each of them fast-paced and filled with action, with not a single boring moment. The characters are well developed, as they should be, considering that we follow them across five years. I also love the friendship between the main trio: Percy, Annabeth, and Grover. Moreover, the setting of 'Camp Half Blood' is incredibly cosy and nostalgic. As for the movies, they aren't bad if you haven't read the books. As I said previously, I watched the two movies before reading the books and thought they were good. I think we can all agree that the Lotus Casino scene will always remain legendary. However, if you compare them to the book series, you will notice that, especially in the first movie, the plot barely resembles the one in the novels. The context is similar but so many key plotlines were changed or just missed out on. A lot of people were unhappy that the actors didn't fully resemble the books' descriptions, but I really don't think that that was the main problem. It is safe to say that there was a good reason that they only adapted the first two books and didn't continue with the rest. Thankfully, a new adaptation will be coming out soon, a series this time, in which Riordan is very involved, and can ensure it stays true to the books.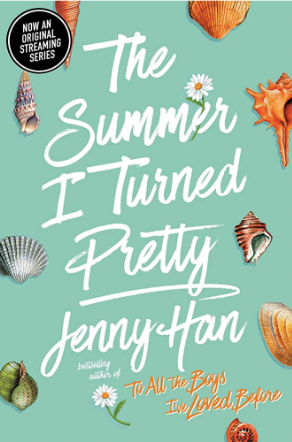 The Summer I Turned Pretty by Jenny Han
🌟🌟🌟.5/5
🎬🎬🎬🎬/5
The Summer I Turned Pretty follows the story of Belly Conklin, a sixteen-year-old who spends every summer with her mother and brother at the beach house owned by her mother's best friend, Susannah. Susannah's two sons, Conrad and Jeremiah, have been friends with the Conklin siblings since they were children, Conrad being Belly's longtime crush. Another exciting summer awaits Belly, filled with family, friendship, and love.
I consider myself a generous book rater so anything below four stars is pretty bad in my eyes. After hearing that there would be a film adaptation, I wanted to read the book first and then watch the series. The Summer I Turned Pretty is a trilogy but I didn't even make it to the third book. Personally, I didn't enjoy the writing style itself very much as I thought it was overly simple and not very captivating. Additionally, the main character was pretty annoying, which is hard to get past. Even though the novel is a coming-of-age story, Belly was more immature than I could put up with and I found that her character was barely developed, making her just as irritating in the second book as she was in the first. I think that one of the biggest things that makes me dislike a book is a main character who you can barely relate to and find annoying. I would write more about the actual plot itself but it's been almost a year since I read the book and it really wasn't that memorable that I remember much of it. Would I recommend that you read the trilogy? I'm honestly not sure. I thought that they were simply average, but some people do seem to really love them. I, as an avid reader, will rarely ever say that a movie was better than the book. Yet, I actually really liked The Summer I Turned Pretty as a series, possibly more so than the books. This rare case is mostly due to the fact that a show is a lot more visual so the tone of the writing style that I disliked didn't come through much. The characters also felt less childish, and Belly less whiny, so that was appreciated. The series, like the books, also wasn't anything spectacular, but it was a solid, enjoyable adaptation, which has the perfect summer vibe.