This summer 6 students (Mai Gherardi, Hannah Cairns, Hrishikesh Doddihal, Suvarn Trivedi,  Makko Fangajei, and Isabella Mezzano)including myself represented ISL at the Villars Symposium. Students and experts from all over the world came together to discuss the threat of climate change looming over our world. We networked with others with similar views on the ecosystem and attended lectures and workshops focused on discussing the environment and proposing solutions to the ecological problems plaguing our planet. A few of us would like to share our experience from this wonderful opportunity with the school along with our takeaways.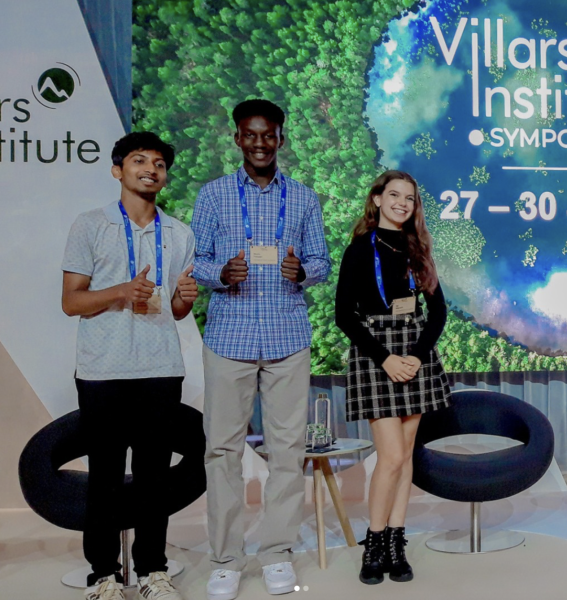 Mai Gherardi's reflection:
This was truly an unforgettable experience getting to meet professionals and other people focused on managing the pressing issue of climate change, a topic that I am also passionate about and have grown more so since the symposium. Getting the chance to be part of real change at such a young age is something extraordinary.
While I did enjoy the lectures by professionals in various fields relating to helping the environment, they were a bit too long to sit and listen to in my opinion and I preferred the workshops where we got to work with other fellows and professionals to brainstorm solutions for various environmental issues. I enjoyed meals and networking as well where I made connections with students from all over the world and learned a lot about their own experiences. 
I learned a lot and the whole experience inspired my other fellows and I to start making further changes to our school to make it more sustainable by starting up a new service among the 6 of us with Mrs. Smith with the goal to increase sustainability in our school and . If I had the chance I would sign up for the symposium in a heartbeat. If you are interested in making a change in the world and are passionate about climate change I recommend this experience. 
Hrishikesh Doddihal's reflection:
It was a wonderful and insightful experience with many opportunities to learn and network. Attending sessions about nature-based solutions, the meaning of net zero, and anticipating scientific breakthroughs taught me about the problem and what solutions are trying to be implemented in the present and future. Sessions like "Transforming Mindsets for climate action" and "Practicing Ecoprenurship Anywhere" inspired and motivated me to be the one bringing change in my community. 
 I met many interesting individuals like Robert Swan, Jaideep Bansal, Andy Karsner, Meagan Fallone, Cameron Hepburn, and many more who are very influential in their field and had a range of conversations with them ranging from topics like "if the economic systems placed right now are conducive for bringing change" to discussing the history of political systems and if we live in a truly democratic world. These conversations brought multiple new perspectives to important topics and made me realize how much more reading and knowledge I need to acquire. 
 I have been greatly inspired and have already had conversations with the students who attended the symposium with me on how we can bring change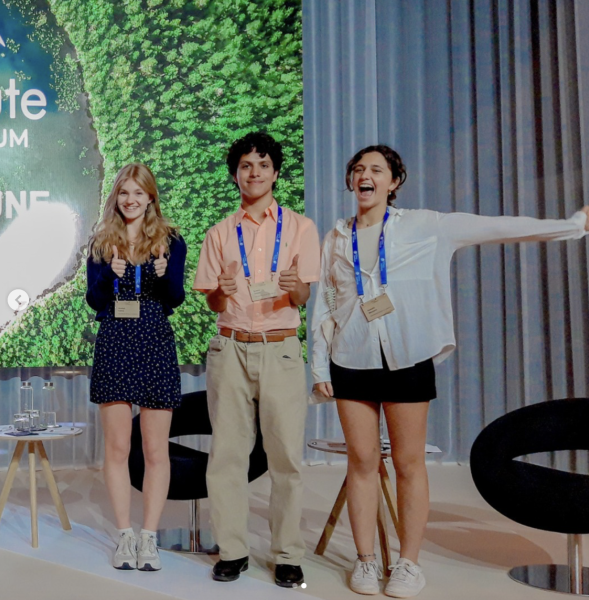 Hannah Cairns' reflection:
 in our community to make it more sustainable and greener. I hope to be able to implement these actions and be ready to attend the Villars Summit next year to meet more interesting people and learn more. 
The Villars Symposium was a fantastic opportunity to get a look behind the curtain at the efforts going on to better our world and alleviate the climate crisis. Over the 4 days that we were there, we met and got to know like-minded students, listened to amazing talks, and attended smaller, more personal sessions where we could learn about topics of particular interest. With a positive and encouraging atmosphere, the experience felt wrapped with hope, and with that came a drive to think up new solutions that could evoke positive change in our modern world. Personally, I thought the symposium was absolutely amazing to partake in, and I would thoroughly recommend it to any other students who are interested.
 Suvarn Trivedi's reflection:
The Villars Symposium was a very enriching event that I would recommend to anyone interested in climate change or sustainability. One of the main highlights for me was the guest list – getting to talk to board members of Exxon, Nobel laureates, the first man to walk both poles, and many more speakers was super exciting for me, and I got to learn a lot of valuable insights. This concept of intergenerational collaboration – something that the Villars Institute prides itself on – was very key to the Symposium, as the exchange of ideas between people from different backgrounds and ages generated perceptive discussions on the topic. The Symposium itself was very organized – a mix of smaller talks on specific topics, larger plenary sessions, panel discussions, and Q&A/networking sessions made it a very new and engaging event. Getting to collaborate with students from around the world was also enjoyable, as I had the chance to meet a diverse group of people who share a passion for addressing climate change and sustainability challenges.