Listen, Listen, Listen
Looking for interesting things to listen to on your way to school? Do you want to base your self worth on how indie™ your taste is? Look no further.
Lloyd's House – We Could Be Friends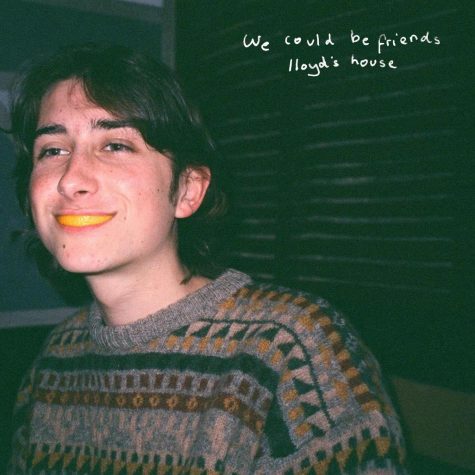 Before you ask – yes this is a shameless plug. 
Lloyd's House is the emotional, lo-fi pop journey of Glaswegian solo artist Lloyd Ledingham. 
The project combines rich bass chords with the sounds of crashing drums, leaving just enough space for lyricism which could have been taken right out of Lloyd's diary. The honest and self-critical songwriting is the result of his continued struggle with sexuality and related OCD & anxiety. With the entirety of the EP's melody sections arranged on bass, "We Could Be Friends" explores rich textures and sounds reminiscent of artists such as Alex G, Duster, Phoebe Bridgers, and American Football. 
The EP is Lloyd's most intimate work; the whole project was recorded on a 2005 8-track mixer in his bedroom. Spending restless nights strumming open chords and walking to rehearsal rooms in the rain, Ledingham conveys a sense of struggle and uncertainty through every track. By recording drums with only two mics at practice studios, he creates a lo-fi and DIY atmosphere mixed with a resounding warmth and belonging. 
'we could be friends' and 'tell me it's over' delve into themes of self-loathing and obsession, while tracks "that's when i sold myself' and 'i'm too cold' express sudden realisation and guilt within the boundaries of relationships. Constantly meandering between guilt and innocence, love and hatred, knowing and unknowing, Lloyd's House gives a glimpse into the conflicts of sexuality and compulsive, obsessive thinking through the medium of low-frequency sonic honesty. 
The EP was released on 29 January 2021 via Corkscrew Records (the record label that I run out of my own bedroom). 
This American Life is one of the most listened to radio shows of all time. Their episodes focus on telling the stories of people from all walks of life – from Wall Street bankers to Mexican farmworkers. This episode (released in 2000 but recently reissued) is like no other. In their own words, they: "document one day in a Chicago diner called the Golden Apple, starting at 5 a.m. and going until 5 a.m. the next morning. We hear from the waitress who has worked the graveyard shift for over two decades, the regular customers who come every day, the couples working out their problems, assorted drunks, and, of course, cops." Despite the fact that this episode is older than me, the experiences in this episode are universal. This episode is split into two "acts", each being roughly 45 minutes long, making it perfect to listen to on your daily commute. 
Kae Tempest – Let Them Eat Chaos
I'm not usually the biggest fan of spoken-word, but Kae Tempest's (formerly known as Kate Tempest) work is an exception. 2016's Let Them Eat Chaos paints a vivid portrait of the working-class areas of South-East London. They use this as an anchor to branch out into a discussion of pertinent issues that affect everyone: financial crises, the climate emergency, migration. In their standout piece "Europe Is Lost", they denounce modern consumer culture and the individualistic mindset that our generation has been forced to adopt:
"It's the BoredOfItAll generation
The product of product placement and manipulation,
Shoot em up, brutal, duty of care,
Come on, new shoes.
Beautiful hair"
Even though it is considered a spoken word album, Tempest's flow is unconventional. It is closer to that of 90's rap groups such as A Tribe Called Quest and Digable Planets as opposed to what one would consider "traditional" spoken word poetry.